GLHN Architects & Engineers Inc. is proud to be recognized for the Best Project Award for the Northern Arizona University Science and Health Building by ENR (ENR reports on the top design firms, both architects and engineers, and the top construction companies as well as projects in the United States and around the world.) The $55-million Science and Health Building facility on the Northern Arizona University's campus in Flagstaff features laboratories, classrooms, faculty offices, lecture halls and a pedestrian bridge.
Northern Arizona University Northern Arizona University's current science teaching facilities are functionally obsolete, severely limiting the ability of the campus to respond to increasing student enrollment and fundamental science instruction.  The university also requires new state-of-the-art flexible research laboratory space to enhance faculty recruitment and funding opportunities.  The building site is located on a tight internal site at the juncture between the campus' primary north-south pedestrian axis and the original historic quad.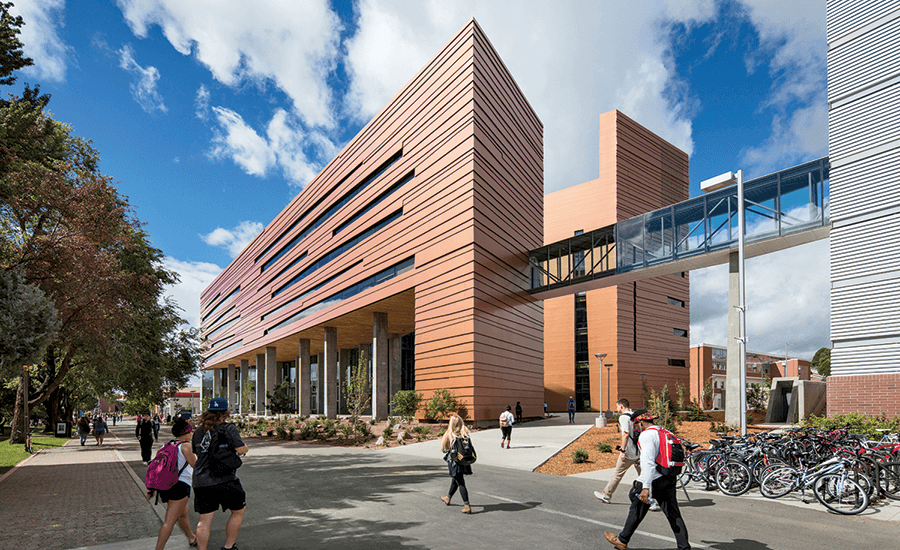 The new 120,000 GSF five story (plus mechanical penthouse) facility  include a fume hood intensive teaching and research laboratory wing, an office wing, and large lecture halls and mediated classroom space at the lower levels. Partial basement research laboratories are suited for laser work. At loading dock level, the building integrates a centralized chemical receiving and storage facility to solve an existing campus wide hazardous material control and distribution issue.  A full "back of house" service corridor with elevator houses the central utility core, provides secure circulation routes for chemicals, and restricts access to laboratory support spaces. On the "people" side of the building, and under a separated pressure zone, a multi-level atrium space provides open interaction and group study rooms in close proximity to faculty and graduate offices. System design was based on a Total Cost of Ownership approach and includes high standards of energy efficiency, low maintenance and long term durability to minimize life cycle costs. Mechanical systems include a heat pipe exhaust air heat recovery system, Low velocity distribution ducting, variable air volume laboratory ventilation with significant unoccupied turn down, and dedicated outdoor air ventilation systems for classroom, lecture halls and offices. Electrical and IT system design was intended to provide ample future capacity and flexibility to adapt to changing research needs, high efficiency lighting and lighting control and extensive use of USB receptacles. The project was completed under a Construction Manager at Risk contracting method(CMAR), with intensive interaction among the CMAR estimator, sub contractors, owner and architect engineers to squeeze the program requirements, energy efficiency and architectural features within challenging physical and economic constraints.
Quote from ENR: "Local fire officials requested that developers test the system that would be used to evacuate smoke in case of fire by utilizing "hot" smoke. Because that testing method could damage finish surfaces and systems, the design and construction team used a smoke machine that produced conditions similar to actual fire and smoke to pass the local required tests.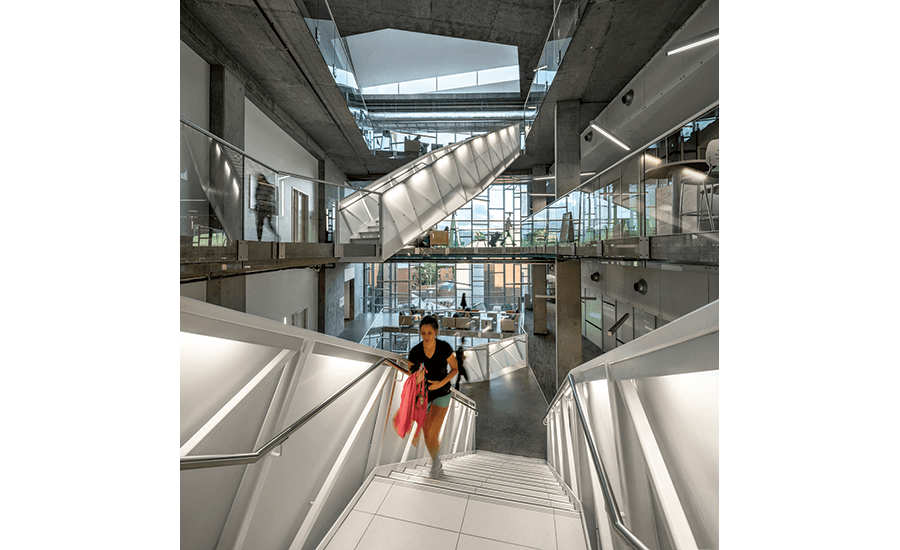 Within the "cave," designers hid systems within acrylic soffits. "Consolidating all of the MEP systems and hiding them within these soffits was a challenge," says Ron Wilson, design phase executive with Mortenson Construction."
source http://www.enr.com/articles/40700-higher-educationresearch-best-project—northern-arizona-university-science-and-health-building
The building boasts a restricted access tunnel for moving chemicals and a pedestrian bridge for students that connect to the adjacent Building 17.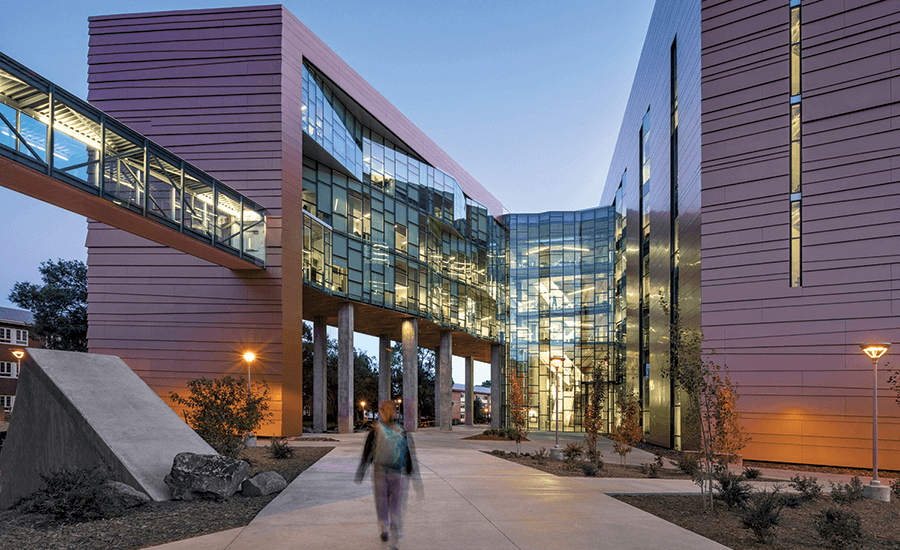 The next time you're in Flagstaff, stop by the Northern Arizona University's campus and see this building for yourself, located in the heart of NAU (the nearest street is E. Franklin Ave. and S. Beaver St.) You will be thrilled.
The project was completed and open to students in fall 2015
Owner/Developer Northern Arizona University
General Contractor Mortenson Construction
Lead Design Firm GLHN Architects & Engineers/Richard + bauer Joint Venture
Structural Engineer Rudow & Berry
Civil and MEP Engineer GLHN Architects & Engineers
Subcontractors Ceco; Midstate Mechanical; Dial Mechanical; NJ Shaum & Son Electric; Ignace Brothers; Gen 3; KT Fab