Two architects from GLHN, Miguel Camacho and Amber Haro, attended the 2018 AIA Conference on Architecture in New York City this summer.  The two-day event brought together over 26,000 architects from around the world. With an agenda that entailed seminars, exhibitions, concerts, and tours of iconic New York buildings, professional development and design inspiration weren't difficult to find. When speaking with Miguel about the highlights from his experience, he spoke about a presentation by the 2018 AIA Architecture Firm Award Winner, Snow Kreilich Architects who amazed everyone by stating that they adhere to a 40-hour work week for their employees. Miguel and his fellow architects found this to be an amazing statement in a field notorious for pulling all-nighters. The firm's position is that design can be an endless process if you do not adhere to finding a viable, well-defined design quickly. You then spend your time developing the concept fully.  Most firms spend significant time redesigning throughout a project, mostly trying to get things to fit within the budget, which can be a moving target.
"It's easy as an Architect to be focused on making something beautiful, but that isn't always cost-effective. We start with a design and then take away, redesign, and adjust to the budget. But by beginning with the business of the project in the forefront, we can control cost and still create something beautiful without doing free work. "
– Miguel Camacho, Senior Project Architect, GLHN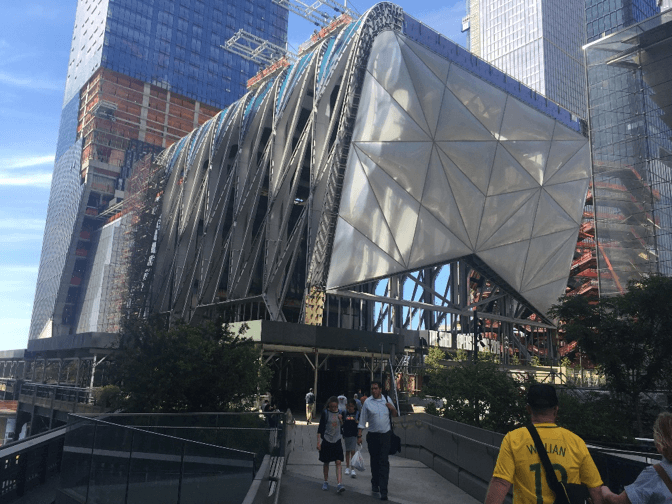 The Shed at Hudson Yards was a highlight of the architecture tour.  Designed by Diller Scofidio + Renfro in collaboration with Rockwell Group, the building will open in the spring of 2019.  Photo by Miguel Camacho.